POSTIRA, a small town and harbour on the northern coast of the island of Brac; population 1,287. In the hinterland of Postira is a 2-km long valley with fertile soil (vines, vegetables). Chief occupations include farming, stone-masonry and fishing; a fish cannery. Postira is located on the regional road.
Postira was first mentioned in 1347 under the name Postrena. The parish church, built in the 16th century, was later reconstructed; the only remains of the original structure include an apse in the shape of a fort. The church features the Way of the Cross, a work by three painters from the 18th/19th century, as well as several paintings by the Venetian Baroque school. - Among residential structures, a very interesting building is the birth-house of the poet Vladimir Nazor (1876-1949), with the Renaissance gable and inscriptions. - East of Postira, in the cove of Lovrecina, are the ruins of a large early Christian basilica from the 5th-6th century; two early Christian sarcophagi and fragments of Roman plastics have been found next to it.
Postira, a picturesque coastal place with a series of attractive beaches and coves, surrounded by pine forests, olive-groves and vineyards, offers excellent opportunities for peaceful and pleasant vacations. The development of tourism started here between the two world wars - the first guests from Germany and the Czech Republic came to Postira in 1934.
Apart from various forms of accommodation (hotels, boarding houses, apartments), visitors are also offered sports and recreational facilities (basketball, tennis, boccia) and water sports opportunities. Excursions are also organized - very attractive are fish picnic parties in the cove of Lovrecina. Gastronomic offer includes fish, home-made specialities and famous local wines.
The traditional cultural and entertainment event, the Postira Summer, comprises the feast days of St. John the Baptist, patron saint of the parish (24th of June), Our Lady of Mt. Carmel (16th of July) and the Assumption (15th of August).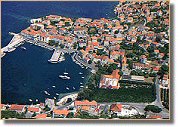 Postire from air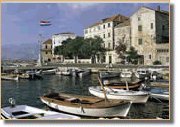 Postire