Car :

∑ First you have to drive to Croatia. The city you have to reach is called Split and there are two different roads possible to travel through:
- One is called magistrala ( the road allong the Adriatic coast )
- The second one is passing through inland (Zagreb - Plitvice - Split ) In Split you have to fallow the signs to port. When you come to port you have to get in line for island Brac ( BraŤ ). On the sign in port will be the name of the capital on island called SUPETAR.

∑ It takes 1 hour by fery to get from Split to island. When you came to the Supetar ( capital of BraŤ ) you have to go to the village Splitska ( final destination ).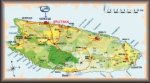 Map of splitska Map of island Brac
In Supetar you drive straight ahead on the main road, and after approximately 500 meters you will get ta a crossroad. Here you turn left (sign on a board) to Splitska. Splitska is about 6 km away from Supetar. After 5 minutes you will come to Splitska. In Splitska you can came by two ways:
- First is along the see (lower road). You will drive through city, passing over shop, church, churchyard. And from there joust straight ahead upward and you will come to us ( asphalt road ). Before you reach the top of slope you will found our house, which is on the right side (3-rd from top)
- Second road (upper road) is not going through the city and is a little longer, but better road. After approximately 2 minutes of driving you will come on crossroad, where lower street is coming together with upper street. Here you turn 180 degreeís left and our house is on your left side (3-rd from the top)
If you havenít been yet in Splitska I recommend you to go on lower road. Itís easier to find us.

P.S. If you are lost please call as.
∑First you have to reach Split, than you can either go by hydrofoil or ferry to Supetar and than by bus or taxi to Splitska.
∑ Bus ticket to Split can be bought in your country at a bus statioon. Information about bus departures and arrivals is accessible in :
SPLIT BUS TERMINAL ( INTERCITY )
Obala Bratstva i jedinstva 12

∑ Bus departures start in the early morning hours ( from 4:30 A.M. to midnight ) In the summer months,special evening lines exists in all directions.
Train :
∑ from Zagreb to Split and then the it's same as by Bus.

∑The railway station in Split is situated in the centre of the city, near Diocletian's palace. It has an advantage of being in the immediate vicinity of the bus terminal, the ferry and ports, and the air terminal.

∑ Cars can be also transported by train.
The train station is located :
Train Station Obala kneza Domagoja

∑ The sleeping cars are available on all railway station at this office: CROATIA EXPRESS
Obala kneza Domagoja 8

This office is open every day from 6.30 A.M. till 20 P.M.
Croatian railways: http://www.hznet.hr
Plane :
∑ to Brac Airport ( the international sports and tourism airport) which is only 25 km away from Splitska. Airport is useful for small planes (around 50 passengers): http://www.airport-brac.hr/


∑ to Split Airport. ( Split airport at Kastela )
http://www.split-airport.hr
∑ Open daily between 6A.M. and 10 P.M. and longer if required, the airport offers service to passengers on home and international flights of Croatia Airlines, Adria Airways and several charter airlines. With a number of 580.000 passengers in 1995 the Split-Kastela Airport connects Split to Zagreb, Rome, Amsterdam, Dusseldorf, Frankfurt, Istamboul and Ljubljana, and via Zagreb and Ljubljana to all European and overseas destinations.
Ship :
∑ First to Split harbour and than by car ferry to Supetar ( main town on Brac ).
LINK: http://www.jadrolinija.hr

∑Split is the largest and one of the most important passenger port on the Adriatic coast. Split is connected by ferry lines with Corfu, Bari, Pescara, Ancona, Venice.